So last week I got the Cat Vibe again. I had a few dreams about a tabby cat and then actually saw her in the neighborhood and then suddenly she was right there standing on top of a car when I walked by, so I picked her up and brought her home. How did I know she didn't belong to anyone? I don't know how I know these things; I just know that I know. And apparently cats know that I know because they react to me like I'm a taxi with my light on. Turns out the Cat Vibe was confirmed once again when we took Anya to the doctor: he confirmed that she had been living on the streets for a while and had also been in some sort of an accident and had a head injury and missing teeth.
Anya
So now Anya is officially a member of our family! And yes, for anyone paying attention she is named after a certain grumpy-but-loveable Russian of the same name who has featured in this blog (and has a bit of a fan base!).
So now we have 10 cats! That's 5 cats past the
Crazy Cat Lady
mark, in case you're keeping track. There are 5 males and 5 females. As they are all rescue cats we certainly didn't plan it, but it's nice that it worked out like that anyway.
But I don't want this blog to be all about just one cat, because the other cats are likely to feel left out. So here is a brief profile of all our cats, in order of when we met them: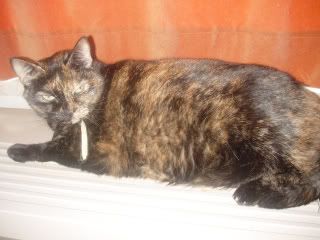 Edna
Edna was a "hard to place" rescue cat that I heard about when I was volunteering at a swan sanctuary in England. One of the swan ladies also worked for a cat rescue place and said they had a cat who had had three different owners who always returned her. Right then and there I decided to go get her. She was being kept in the rather smelly house of a kindly cat-fosterer who told me that her name was "Jinx", because she'd had such bad luck, and that I must keep that name. As I left with her, I mumbled under my breath, "The
first
thing I'm changing is that awful name!!" and called her Edna which she responded to right away. Eventually she moved with me to Belgium and now she spends her days happily on the loft bed cuddling with a stuffed ferret (not a real ferret) toy called Felipe. She's never really been fond of the other cats, although she has been showing an uncharacteristic fondness for Anya – perhaps she finds her brain damage sort of endearing.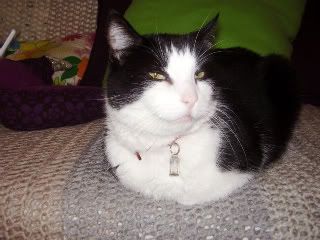 Walter
Walter is the official boss of all the cats. He runs everything downstairs. He would run things upstairs, too, but he's no longer allowed upstairs after he rather vindictively pooped on Wim while he was sleeping. Not once, but twice. We know it was a territory thing and he was just trying to show everyone that he was the man of the house, but Wim wasn't very receptive to the message as A) He likes to think of
himself
as the man of the house; and B) No one likes being pooped on. I first met Walter at a cat rescue place where he acted all cute and stood on my shoulder and put on quite a show. As soon as I brought him home he dropped the cute act and set up his dictatorship. It was too late. We'd been had.
Angelo
I met little Angelo at a cat rescue place when he was no bigger than a mouse and quite ill and covered in his own poop because he needed someone to look after him. I brought him home and Walter immediately took him in, gave him regular baths and taught him all the important cat stuff he needed to know. Now Angelo is a big strapping lad who enjoys playing with the other cats on the stairs. He also likes oatmeal with organic raw sugar.
Martha
Martha was being kept alone in a room at the cat rescue boat where I was working because everyone thought she was really old and too frail to be exposed to germs that other cats might have. She was blind and walked slowly like a very old lady, but without a cane. We adopted her and took her to the vet and found out that she wasn't old, she just had a terrible infection. We got her fixed up and now she's very healthy and happy. She is one of the most playful cats we have and she runs and plays with balls and has a great time. She is blind but has such good hearing that she can find a ball that all the cats are chasing before they can get anywhere near it. Her one fault is that because she's blind she doesn't realize that we aren't also cats and she uses the full force of her claws when she plays with us. So we keep an oven mitt handy.
Papa Steve
It was ice cold I the middle of winter. I was in Leuven running towards the train station to catch the midnight train (the last train of the night) back to Gent. As I was crossing a square, I heard this strange howling and this creature made out of grey mangled fluff came running toward me. I picked it up. It seemed to be a cat, but inside the fluff it was skinny and weighed almost nothing. I made an instantaneous executive decision that if this cat belonged to someone they certainly weren't taking very good care of him and I carried on running for the train with him in my arms. I was worried that I might get kicked off the train for having a cat, but I decided that if that happened I would just have to find a way to survive the night because I wasn't leaving this particular bag of fluff for anything. A train conductor walked toward me and I was thinking, "this is it. I'm busted. I'm going to have to spend the night in the snow with a raggedy stray", when the conductor asked, "Jongen of meisje?" (boy or girl?)………
Whew!!
Later we took Papa Steve to the vet and it turned out he had a severe throat infection and hadn't been able to eat for a while, so it was a good thing he found me! He's all better now, and now he's this chubby guy who sleeps all the time. Trivia note: When I first brought him home, Wim uttered the now legendary words, "We're
not
going to have
5 cats!!!
" Ha!
Bram
Down the street from us there was a messy construction site and I soon started seeing a grey kitten living in the bushes there. He was probably about 4-6 months old and very very skinny. I brought him food a few times, but he would always run away and come back and eat it after I was gone. Then every time I made eye contact with him I would send him a psychic picture of our house and "tell" him to come there. We always kept a dish of cat food out front for the strays and I was hoping he'd find it. One night I dreamt that the grey kitten was in front of our house on top of one of our chairs with some adult cats eating the food, and the next night it actually happened. Then he started hanging around in front of our house and I was feeding him but I still couldn't get near him. Then one day he was playing with some of our cats and they had chased each other through the window and into our house, so I quickly closed the window and trapped him inside. He was so scared that he wouldn't come out from under our couch for about three weeks, so we put a sandbox and food there for him. He made steady progress and now he is one of the cuddliest kitties in the house. When we had another little kitten, Elfke (who sadly died earlier this year) he became her surrogate father and took care of her. That's her in the photo with him. Pretty cool for a wild street guy!!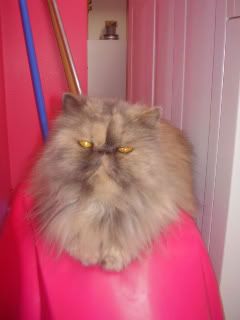 Vienna
One day when I was working at the cat sanctuary, this guy came in with Vienna. She was an award-winning pedigree Persian and her owners had moved to Brazil and left her with him. He didn't know what to do with her, but he wanted someone to give her a good home rather than using her as a pedigree breeding cat which she had always been. Sounds like a job for us! So now Vienna is very happy; she's had her operation, and she's one of the gang – just a regular cat instead of a pedigree celebrity. We still have her awards and pedigree papers in a closet somewhere, but they don't matter so much. We love her for who she is.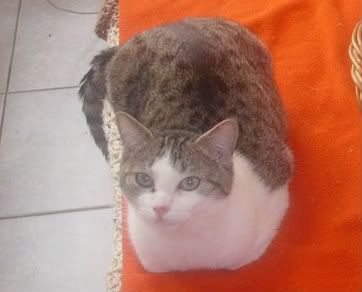 Francis
On day Wim came to pick me up at the cat sanctuary and I was showing him a particular cage full of kittens (dangerous!) and this one rather scruffy little guy kept shyly coming up and leaning against Wim's arm. He had some horrible fungus so he had lost fur in patches, but he had clearly chosen Wim to be his dad, so we took him home. The vet said he had to be quarantined for a few months while we were treating the fungus, so we had him in our room with us but he would cry and cry when we went away because he couldn't stand being alone. So a few days later at the cat sanctuary we met another little kitten who had the same medical issues……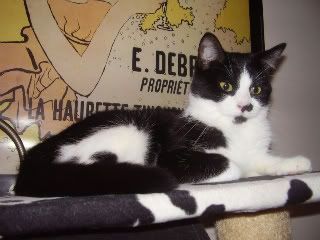 Peanut
We brought Peanut home because we figured we can't keep Francis quarantined on his own, and we might as well rescue another kitty in the process. Francis and Peanut soon became the best of friends and still are to this day. Peanut is quite the princess and has all the male cats in the house do her bidding. But Francis is very possessive of her, so anyone else trying to give her a bath only gets a few licks in before he pounces on them. Peanut is quite self-possessed and the only cat who Walter allows to sleep in His Spot in the window. Peanut is also officially in charge of waking Wim up for work, which she does every morning.
I shall close this blog entry with some rather fabulous group photos. See if you can recognize who's who!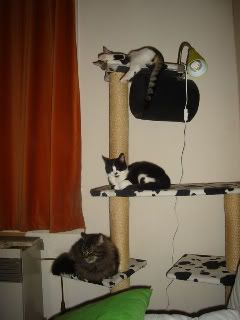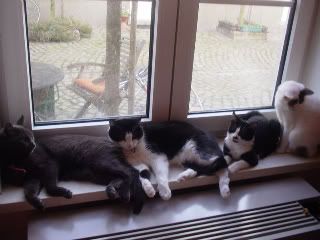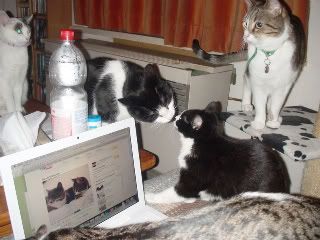 .
.
.
.
.