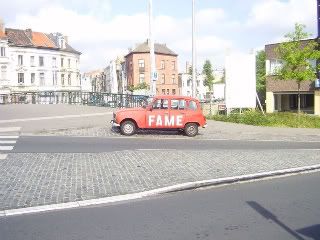 So I was out for a walk the other day and I saw this car. Luckily I still have the camera that I "borrowed" from The Russian a few weeks ago so I took a picture of it.
I couldn't figure out what they were trying to say here. Was it a statement? Was it a request? Had they just got through seeing
The Secret
and they were "putting it out in the Universe"? Did whoever owned the car also have cars with the words, "Money" and "A Stable Relationship" emblazoned on them?
I spent enough years in Los Angeles to have personally witnessed the High Priest and Priestess of self-promotional vehicles owners; Dennis Woodruff and Angeleyne, respectively.
Angeleyne is the lesser of the two. She began her quest for Fame on a series of billboards in Los Angeles.
Her goal? To be famous. Period. She wasn't an actress or a singer or even a model; she just wanted to be famous for nothing, making her perhaps the only truly honest person in Hollywood, also one of the few truly successful ones. She wanted to be famous for nothing; She is famous for nothing. Mission Accomplished! She's so famous that people, including me, would squeal with delight whenever they'd spot her in her signature pink corvette.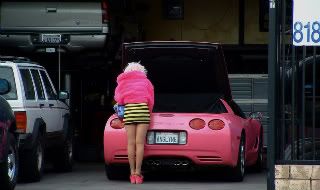 I once made a wish in my mind while I was driving late one night, then I stopped at a red light and she stopped right next to me. And the next day the wish came true! Coincidence?! I hardly think so, my friend.
Dennis Woodruff's story is a little more involved and far freakier. Legend has it that he came to Hollywood in the 1970s to be a star, it wasn't working out, so he started decorating his car (which he was living in) with pictures of him in the windows and crazy colors and the plea, "Cast Me" lest you weren't getting the message.
Every time he got a different car he would doll it up in the same fashion.
Meanwhile he started making his own independent films, which he would sell out of the back of his car. At first, people thought he was just crazy. But after several years of this he began to gain a little respect as a Hollywood fixture. Hollywood hipsters started paying big bucks for his cars and he started having cult appeal and getting cast in films – his little plan had worked! Oh don't get me wrong, he was still crazy, but in Hollywood "crazy" sells as long as it's packaged right.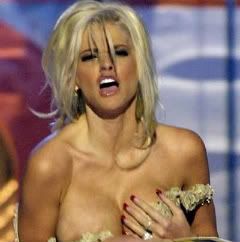 What gets me is why this elusive thing called "Fame" is something that people think they want. It seems to me that fame would be a rather huge pain in the ass. Famous people are constantly scrutinized. They are followed and photographed and examined by a maniacal portion of the public who are waiting to see them at their worst so they can hold up pictures of them and scream, "See? Those famous people are all idiots!!" when all the time they themselves would like nothing better than to become one of Those Famous People.
Why?
Can you imagine how annoying it must be to constantly be interrupted and be made to sign a piece of paper that is being shoved under your face? And by the way, what are autographs for, anyway? A sort of "I was there" proof that you actually "met" (accosted is more to the point) that particular celebrity? Surely something is wrong with the state of your relationships if your friends demand written proof? And then who's to say that you didn't just scribble the word "Madonna" on that napkin yourself? It doesn't sound like your friends are trusting you much there buddy, so unless they're expert handwriting analysts, you're going to have to do a lot better than that. Can you get a DNA sample next time?
I've had teeny tiny tastes of fame, and that was enough. Not for me, thanks. It feels decidedly odd to have people grinning at you like you're some sort of Circus Freak just because they saw you on Tee Vee the night before. If I ever did accidentally become
actually
famous, I would hire an actress to do all my interviews and public appearances. She'd be the one having to constantly worry about her weight and what her hair looked like, while I'd be in a back room somewhere eating pizza and speaking into a prompter she'd be wearing so she'd have clever things to say. This way if someone criticized "Jovanka", I'd be able to disassociate myself from "her" and join in the gossip saying, "Yes, she has got really fat lately……
Bitch
".
But whatever I say on the subject, people will continue to pull silly stunts in the quest for notoriety. Maybe Dennis Woodruff has developed an international following, with people from different corners of the globe aspiring to his greatness.
Still it's interesting to note that when some Belgian guy saw this:
He decided to pare it down, remove all the bells and whistles and produce this:
No nonsense, straight and to the point. Because Belgians don't go for all that crazy stuff.
.
.
.
.
.