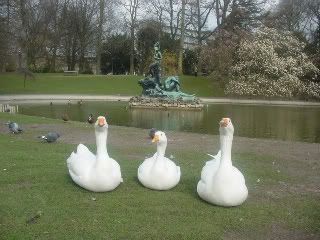 I haven't blogged in a l-o-o-o-o-o-o-o-n-g time. Here are my reasons:
1) Tony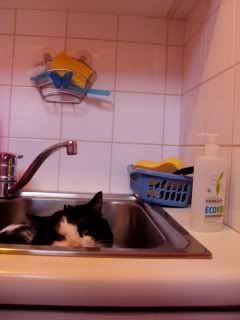 Tony, (our very wild street cat who only loves me) has been ill. Something with his kidneys which meant I had to stay up with him several nights coaxing him to drink water and giving him sponge baths. He is doing much better now, thank you, and is well on the road to recovery. He's even regained the strength to hiss at Wim which made Wim and I almost cry with happiness. He has no doubt mortgaged 1 or more of his 9 lives in the whole debacle but all is well now.
2) I am fat.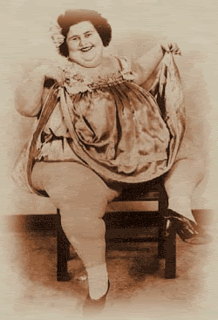 I realize some people might not accept this as an excuse for not writing my blog, but believe me when I say that the effects of my fatness are all-encompassing. I simply cannot lose weight and it's turning me into an obsessive freak. Even though I'm a vegan and I've been keeping my calories down to Weight Watcher's levels, I haven't lost anything! So I started going on long walks. Still nothing! And now it's been three weeks solid that I've been walking 12-16km (about 6 1/2-10 miles) a day and I
still
haven't lost even a gram. Sure I'm feeling healthier, blah blah blah, but who cares when I look like Jabba the Hut? And it just doesn't make any logical sense. I'M DEFYING THE LAWS OF PHYSICS, PEOPLE! But what can I do but carry on. I'm at my wit's end, believe me.
So anyway I thought I'd share some pictures of things I see during my daily walks:
Ducklings!
These guys are everywhere all along the canals. They are cute as hell.
.
.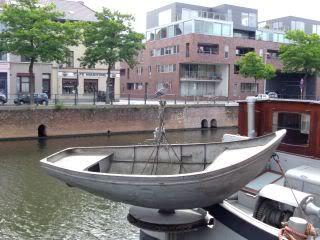 This pigeon always stands somewhere creative, and I admire him for it.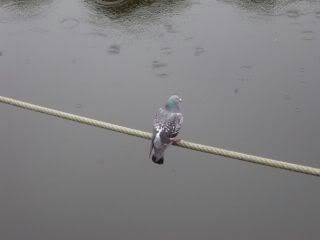 Here he is on a rainy morning sitting on a rope.
...And here he is on a day he decided to have a friend over.
.
.
Here is a random seating area which I like because of it's sheer silliness. All the benches are aimed at the canal, so short of an inter-boat cannon fight, there really isn't anything to see.
.
.
For a few weeks I would see this poster every day. It frightens me. Does it frighten you?
.
.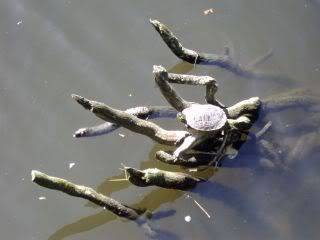 Here is a turtle in the canal. Yes, a
turtle
. Apparently he got there after being flushed down the toilet if I'm to believe the rumors on the street.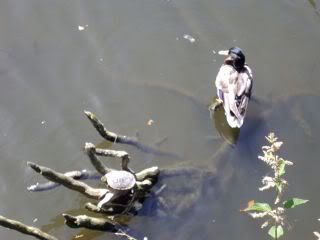 Here he is with a friend.
.
.
Here is a fabulous Goose couple who run things on the canals.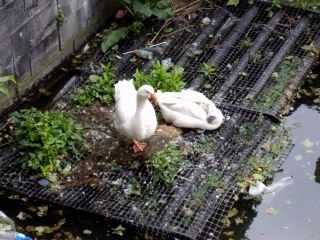 This is them in their apartment.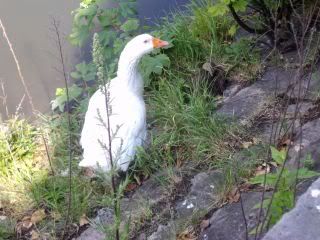 Every year, one Goose selects an unwed duck mother to support. He hangs out with her as she sits on her eggs and all the way until her kids are full grown. I like that the Geese do their bit for the community.
.
.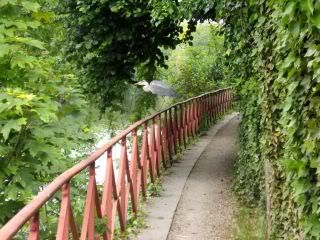 This guy is amazing. He frightens me a bit because I suspect he might be prehistoric, but so far he hasn't given me a hassle.
.
.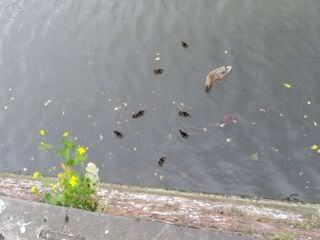 More duckings! Look how tiny they are!
.
.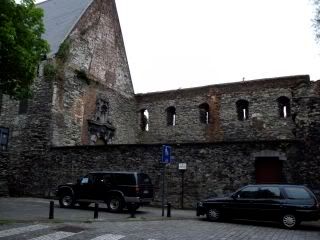 The ruins of a 1000 year old monastery. Ho-hum.
.
.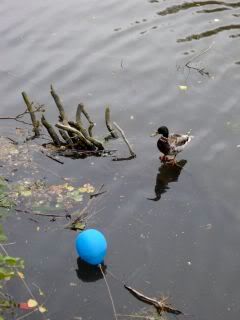 Where did the duck get this balloon?
.
.
And finally this street chicken. She is quite possibly the cutest chicken I've ever seen. She lives with some friends in some bushes along a street. I'm not saying where though because I'm sure she doesn't want the publicity. I hope she appreciates how considerate that chubby lady with the camera is.
.
.
.
.
.