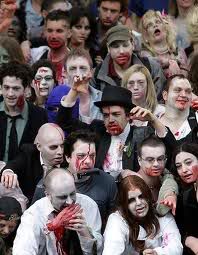 I have noticed an increase in the number of creepy people lately. At first, I thought I might be imagining it - I have been known to let my imagination run away with me when I've been watching too many conspiracy videos on YouTube and imagine armies of Zombies/Space Aliens/Terrorists/The Ruling Elite around every corner - but now it's just been happening too often to blame on the paranoia of an obsessive insomniac.
It's important to note that being a stand up comedian, I keep the same hours as Creepy People; and being a stand up comedian who often drives home late at night from gigs in nearby countries, I tend to end up at their hang-out spots: namely those open all night roadside gas station/convenience stores.
These places, as best as I can tell, are social clubs for the shockingly weird and the potentially criminally insane. Sometimes when I pull into these places at 2:00 in the morning and see these freaks, I wonder where they hang out during daylight hours, or indeed if they even exist in daylight hours. I swear I never see such lumpy, perspiring just-crawled-out-of-the-grave looking weirdness in the middle of the afternoon.
In the past they always seemed to keep to themselves, accepting (I assumed), that being Weird they shouldn't attempt to mingle with the Un-Weird. But lately I've noticed more of them. And I've noticed them focusing on me a lot. I've been followed into the ladies room by the female ones who loiter by the sinks as if in a quandary as to whether they should mug me or not - like the Zombies and Wraiths in horror films, they are dealt with easily enough by staring them down with Devil Eyes, or shocking them with a loud hiss (thank you, house cats)- but it is still disturbing that they are aware of me at all. I used to swear they lived in a misty parallel world where I could see them, but they couldn't see me.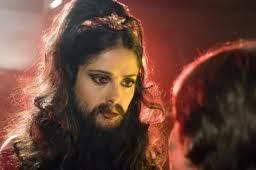 So, being me, this has lead me to some uneasy self-examination. Is there some vibe I'm giving off that makes them think they can mess with me? Are there just more of them and they're taking over the world and messing with everyone? Or - worse yet - do they think I'm one of them??!!
Oh Dear God, could it be that?
Lately I've dyed my hair jet black, and when I come into contact with them, I am several hours post-gig, usually dressed in dark colors and with eye-makeup that is ghoulishly heading south. I am - if I'm being honest - pretty scary looking myself. Could they think that I'm the sort of healthier
un
crack damaged version of them whom they must threaten in order to establish their territory? Perhaps they think I am their Queen?
Or is it possible that I, too, am creepy? No, no, no. Surely I would know, wouldn't I? Surely if I were truly One Of Them I would skip the gigs altogether and follow an instinctual urge to stand in shadows in those places, looking at my feet with my hands in my pockets?
I mean they know, right? They know they're creepy. At some point it must have occurred to them - even if just on a subconscious level - that they weren't quite like the rest of humanity and that they
belonged
(if anywhere) at these late night truck stops? And I would
know
(Right? Right?) if I were one of them?
Oh for crying out loud.
Just to establish boundaries, the next time I'm in one of those places I'm going to shout at the top of my lungs, "I'm only here because I have the bladder of a sparrow, so back off!"
Oh, that'll show 'em.
.
.
.
.
.