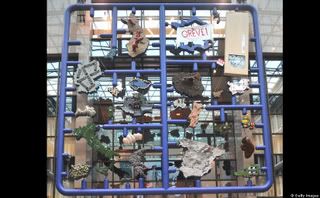 There is an art exhibition going on right now in Brussels at the European Parliament. the piece above was done by a Czech artist, David Cerny. It was meant to be a humorous send up of European stereotypes. And now there's a big kerfuffle over it!!
"The Czech Republic, which took over the rotating presidency of the European Union in January, has landed itself in a cultural debacle. Not only has its flagship artwork - designed to demolish national stereotypes by mocking them - caused diplomatic outrage, it turns out to have been the work of a single Czech artist when it was billed as a collaborative effort from all 27 EU member states."
(financialtimes.com)
Apparently Bulgaria isn't too happy with their one which makes fun of their weird toilets:
There was a Bulgarian lady on the news saying, "Look at it! It's ugly! And it's not funny!" and she was hanging out at the exhibition trying to get someone to take it down. Gee, she must be fun at parties!
I'm sorry Bulgaria, but you have funny toilets. I mean you do know about the kind where you can sit, don't you? Look, I'm sorry Bulgaria, but it's
funny
. All we can think when we look at your toilets is
Gee, these people must either have very strong thigh muscles.....or they don't wear underpants.
I'm sorry, Bulgaria, I'm just saying what everyone else (including this Czech artist, apparently) are thinking. get over it! Germany has!
They got depicted as a bunch of roads in the vague form of a swastika. Do you hear them complaining? Or how about your neighbors, Romania??
Surely there's more to them than just Vlad the Impaler. But did they kick up a fuss? And what about Luxembourg?
See, Bulgaria? Luxembourg got depicted as a tiny piece of gold that's for sale. Ha ha ha ha ha. Are they threatening a lawsuit? Or Italy: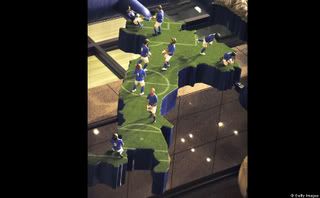 They got depicted as a one huge football pitch. And in this case the artist didn't even get it right, or he would have shown them all on the floor pretending they had a knee injury. Are they upset? Even Poland seem cool about theirs:
....Showing them as priests hoisting the Gay Pride Flag on a field of potatoes.
And Bulgaria - do we
really
want to be so judgmental with stuff like this available to see on the internet?
People in glass houses. I'm just sayin'........
.
.
.
.
.