Wherever I go in the city where I live, I always seem to see the very same people. Now that's understandable of course in my neighborhood because obviously people who live near each other are bound to exit their homes at the same time on occasion. Consequently in my immediate neighborhood I have certain favorites: there's the old lady who walks Louie, a dog I know. I always say hello to Louie and nod at her. I can't honestly tell you why I know Louie's name, but I do - maybe I heard her calling him one day, or maybe he just looks like a Louie - but it seems rude not to call him by name when I know it so I do; there's the grumpy looking Romanian lady who always walks in the middle of the street even when there's traffic; there's "my" old man, who's my favorite old man in the neighborhood and I swear he knows it; and of course there are the people at my local grocery store who seem to take it personally every time I change my hair. To see these sorts of people on a day to day basis is normal. Then there are The Extras.
I call them The Extras because just like background extras in a film they seem to have been hired to hang out in the background of my life to give it a sense of reality. And just as you'll notice if you ever make a point of watching only the extras in an entire film (which I highly recommend), the same extras tend to show up in different scenes until pretty soon you see the same faces all the time.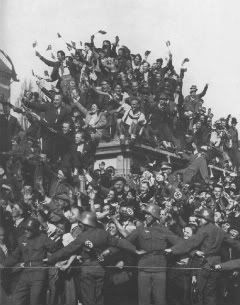 Currently I have a few that seem to have been hired for the Fall/Winter 2009 season. There's the tall Polish-looking girl with the Delvaux handbag who I pass every day - she going one direction me the other - in the same exact spot. (That's an odd experience because she's started to acknowledge my presence in the same way I'm acknowledging hers and I wonder if she thinks that I'm an extra in her life or if she realizes that I'm really the lead and she's only a walk-on? Hopefully so.) There are several others who I see in various places appearing busy with mundane activities. I notice subtle things about them like when they get new shoes or a haircut, but they do their best to seem not to notice me.
The worst extra I ever had though was a celebrity. it was back in about 1997 when I was living in Los Angeles. One day I saw Shannen Doherty in a restaurant. No big deal really, Los Angeles is crawling with celebrities. I said to myself, "Oh, it's Shannen Doherty" then I didn't give it any more thought. Then the next day in was in a shop and there she was again. I thought well isn't that a coincidence and went on with my day. Then soon after that I saw her at a comedy club. Then a bar. Then a taco stand. Then a frozen yogurt place. By the time I saw her on the bicycle behind my treadmill at the gym she was slitting her eyes at me and giving me dirty looks. Then it occurred to me: Shannen Doherty thinks I'm stalking her. I had just accepted her as a rather fancy Background Extra, but in her mind she was the star and therefore I was the extra with the uncanny ability to be in all of
her
scenes. Oh Bloody Hell. I wanted to get off the treadmill walk up to her and say, "By the way, I'm not stalking you", but I thought better of that because of course that would sound all wrong. Instead I had to make a big show of noticing everyone and everything else in the room besides her just to make a point.
The next time I saw her she made a pointed effort at glaring directly at me for one second, two seconds, three seconds, then storming off. It really hurt my feelings. I began to feel as if maybe I
was
stalking her. And the thing is I'm not like that at all. I'm not a celebrity hound. Quite the opposite actually: celebrities annoy me. I don't like how everyone changes and acts afraid when they're around. And I don't like how grumpy they look and how if you
accidentally
make eye contact with them they make you feel like a Medieval peasant who just shat on their carpet. But this was so much worse on so many levels because now I was acting like a human exclamation mark when she was around because of the shock of seeing her so often. So every time I gasped slightly under my breath at running into her at the post office, she was interpreting it as some sort of obsessive fan sigh. I actually started getting slightly afraid of going places - I almost wanted to call ahead everywhere I went and make sure she wasn't there. And the strange thing was that she was always at the place first so I would look doubly bad when I strolled in a few minutes later. It got to the point where I could recognize her peripherally so sometimes I was able to neatly avoid going down the wrong aisle in a department store, but since she always seemed to be nearby that wasn't always possible.
I just wanted it to end. But it was just too awkward to resolve on my own. Short of walking up to her and screaming at her to stay the fuck away from me, there was nothing to be done but to wait for the phenomenon to pass.
Then one evening I was at a restaurant with some friends. We were a big loud table seated next to another big loud table. My back was to the back of people at the next table with not much room in between. I was in a good mood and about 3 Margarita's into the evening when someone entered the restaurant and was trying to squeeze past me for a place at the table behind me. I heard a voice say, "Excuse me" and I looked up and there she was: Shannen Doherty. Before I could even think I shouted, "Oh no! Not you again!?" to which she seemed to blush, and then I burst into nervous laughter and drunkenly turned back to my friends.
Later when my friends and I got up to leave, she gave me a sheepish half-grin and I realized that the tables had turned. I couldn't tell if she was now thinking that
I
thought she'd been stalking
me
, or if she just realized that no stalking had happened and that she had been caught out being rude to me several times, but either way the spell was broken. I never saw her again.
.
.
.
.
.