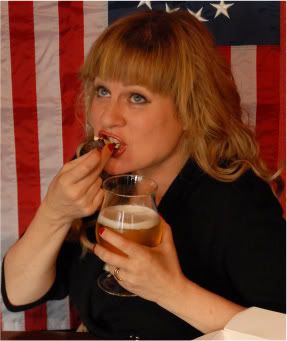 So I debuted my new one woman show this past weekend. I would tell you how many years it's taken me to get my shit together to finally write this, my second O.W.S., but then you would surely shift all the numbers around and figure out that I am older than the trees and the very archetype of laziness. I much prefer for everyone reading my blog to imagine me about 22 and a plush comedy prodigy. It is so much more attractive to think of comedy as having been magically bestowed on me rather than to face the grotty reality of years and years of scribbled rantings on bar napkins, drunken brawls and dysfunctional relationships with road comics while I crawled night after night to the clubs to try out my fledgling little jokes on spiteful crowds before going home to pass out in a pool of my own tears.
So here's something that I've rediscovered about myself: Sometimes I just don't hear the laughter. Take last night for instance. I came off stage thinking that I had done so badly that I would be pelted with stones and chased through the streets by angry villagers, only to be confronted with audience members coming up and telling me they thought I was funny. So strong was my psychotic self loathing though that I had to actively suppress the urge to scream, "WHAT THE HELL DO YOU KNOW ABOUT IT?!!" at them before morphing into Charles Bukowski and drinking myself into the fetal position. But I did suppress it. Now here's the thing: there are two different extremes of comedy psychosis out there. There are those who, like me, sometimes don't hear the laughter; and then there are those who don't hear the
silence
. Of the two extremes, mine is definitely the more productive one, because at least when one doesn't hear the laughter one makes an effort to improve ones' act if for no other reason than to stop the voices. Those who don't hear the silence however have a completely opposite and one might even argue
better
experience. Because to them everything they do is
genius
. Rather than coming off stage in a cloud of doubt, they basque in the glow of an enthusiastic laugh track that only they can hear. I have known a few such comics. One in particular has done the same act for over 20 years, never had a genuine laugh and never seen a reason to write anything new. But this guy is not only happy, he is also touchingly proud of his work. If a team of psychiatrists were to evaluate the two of us, he would be awarded gold stars in every category. They would "ooh" and "aaah" over his supreme contentedness and his sense of self-actualization. Me they might have committed for further study so Freudian students could stare at me over their clipboards and say things like, "Did you
really
have all your work removed from YouTube because you thought you were too fat?"......Because honestly I'm willing to bet that can't-hear-the-silence guy never wakes up in the middle of the night hyperventilating because of how he messed up the delivery of his cat joke. And he is a happier man for it.
.
.
.
.
.