So I was out for my run today and from about 100 meters away saw what I thought to be either a kitten or a black plastic bag in distress. I got closer and it turned out it was a pigeon (see above - ha! I love my new pink camera). I don't know exactly what was wrong with her but she seemed to not be doing well. She was standing in one place and sort of staring at a wall and wobbling a bit. When she let me pick her up and wrap her in my sweaty horrible running scarf, I knew she was feeling poorly.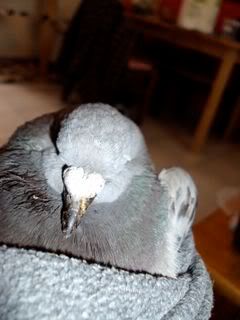 I bundled her up and carried her home passing by neighbors who had seen me carry a legion of cats in the past and even once witnessed me running to the vet holding an ailing rat. So no one even raised an eyebrow at the pigeon. I'm sure by now the neighbors are thinking, "We need to see you holding a baby elephant whilst riding a Great White Shark before you'll get any attention from us, lady".
As luck would have it, our local
Vogelasiel
(bird sanctuary) is only a 5 minute drive away so we rushed her there where she was fed (they put a tube down her throat, but I wasn't quick enough to get a photo), and given a private suite as she waits to see the doctor later.
So I'm glad she's being looked after. She's in a nice room with other wounded birds...
...And eventually when she gets better she'll be in a lovely transitional cage outside...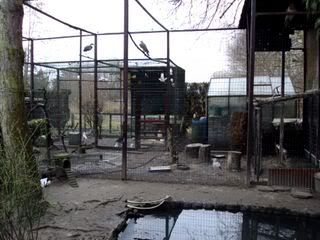 ...And then be slowly integrated back into society.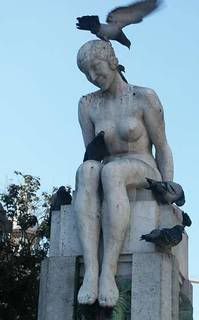 .
.
.
.
.