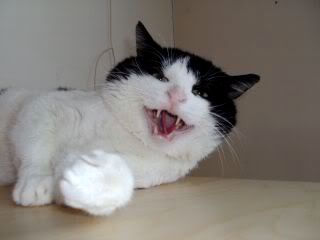 Tony is the most recent addition to our household. He's been with us for about three months but I haven't mentioned him yet because he was a wild street cat and has been taking a while to adjust. We've seen Tony around in our neighborhood for several years now. Occasionally we would bring him some food or offer a kind word which was always met with a hiss and a general bad attitude from Tony. But one particularly cold winter day Tony decided to come and visit us, we opened our window, he walked in, we slammed the window shut, and voila! Tony was our captive!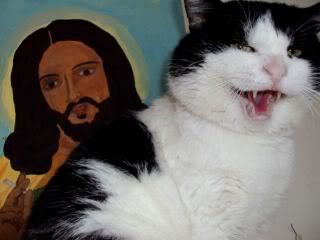 I'm sure there are all sorts of arguments that people might make in regard to us violating Tony's civil rights or even being in breach of the Geneva Convention in holding Tony against his will without even access to legal council, but it was very cold outside and he was very scruffy and hungry and we do truly believe that it was all For His Own Good.
The good news is that Tony has been acclimating very nicely and has calmed down quite a bit.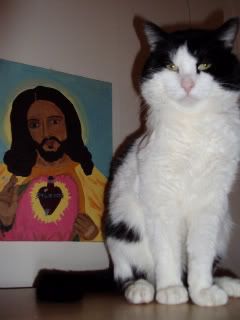 He enjoys sitting in the window like he owns the place.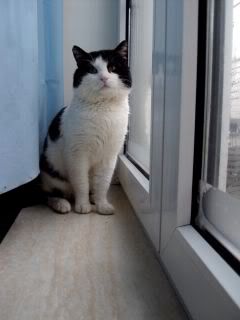 And the other cats are starting to accept him.
He still won't let Wim anywhere near him and hisses whenever Wim so much as looks at him. But the best most wonderful thing is that he lets
me
pet him!!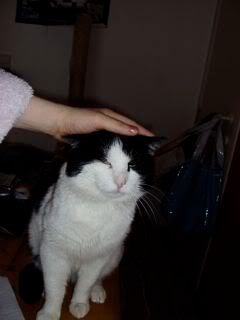 Yes, that's MY hand, patting Tony on the head! Ha ha HA, Wim! HA HA!!!!
There is NOTHING more validating than the feeling that you are the only person a grumpy cat will allow near him!....And yes I know it means that I'm horribly codependent but I don't care. I still feel super cool.
.
.
.
.
.